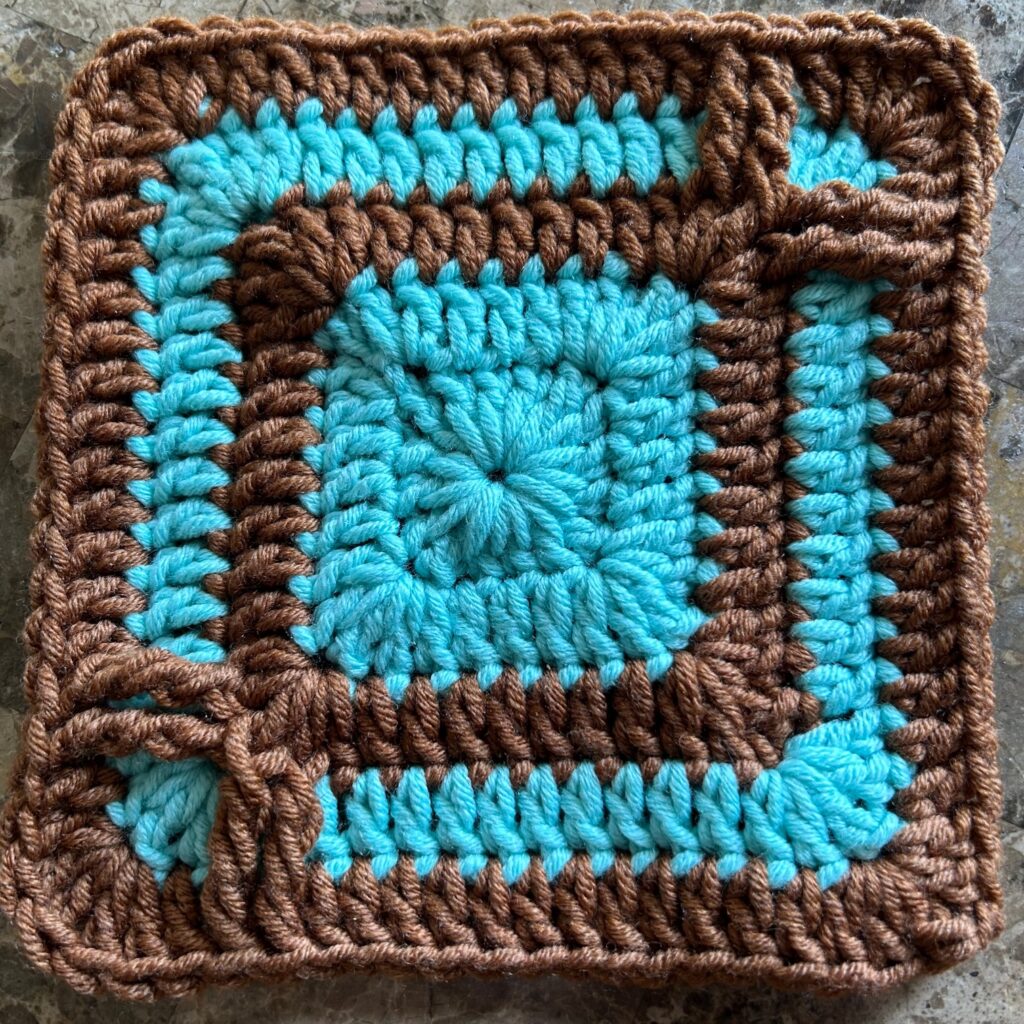 I'm excited to have a new pattern to share – this is a 6″ square called Breeze Block, and this week I am the featured designer in Underground Crafter's CAL, the Melange Blanket. Six-inch squares are easy and manageable and make a great year long CAL. Thanks to Marie Segares of Underground Crafter for organizing this fun CAL and asking me to participate. Links to the rest of the year's free squares can be found on Marie's blog: Underground Crafter.
I designed Breeze Block to resemble a decorative concrete block design sometimes called Breeze Blocks. The only tricky stitches are a few FPtr in the last round. Front Post treble crochet – just remember to yarnover 2 times and front post as usual! I think this design will be a fabulous addition to your sampler blanket and also look wonderful on its own repeated in a full blanket (stay tuned.) (I debated whether to use FPtr or FPdtr – 2 yarnovers or 3 yarnovers. I finally decided FPtr would be best but If you are a tight crocheter you can opt to use the 3 yarnover FPdtr instead!)
Breeze Block by Julie Yeager
6" Afghan Block
U.S.Crochet Terms Crochet Hook size J (6.0 mm)
Materials: Worsted or Aran weight Acrylic
Color A: Aqua Color B: Chocolate
Ch – chain  dc – double crochet   FPtr – front post treble crochet    sk – skip   sl – slip   sp – space   st – stitch  tr – treble crochet   YO – yarn over 
FPtr – Front Post treble crochet:  YO 2 times, insert hook from front to back around post of stitch; YO and draw through (4 loops on hook); YO and draw through 2 loops (3 loops on hook); YO and draw through 2 loops (2 loops on hook), YO and draw through 2 loops (1 loop on hook.)
Notes:  Ch-4 at the beginning of a round counts as a tr. "Standing" tr may be used instead of ch-4 to start a round, but I found the ch-4 worked better used consistently. "Omitting last stitches" means that those stitches were already completed at the beginning of the round.
Round 1: With Color A, ch 4, join with sl st to form ring, ch 4, 3 dc in ring, (tr, 3 dc in ring) three times, sl st to top of beg ch-4. (16 st)
Round 2: Ch 4, 2 dc in same st as join, [dc in next 3 st, (2 dc, tr, 2 dc) in tr for corner] four times, omitting last 3 st. Sl st to top of beg ch-4, fasten off. (32 st)
Round 3: Join Color B with sl st in tr of any corner, ch 4. 2 dc in same st. (Dc in next 7 st, (2 dc, tr, 2 dc) in tr for corner] four times, omitting last 3 st. Sl st to top of beg ch-4. Fasten off. (48 st)
Round 4: Join Color A with sl st in tr of any corner, ch 4. 2 dc in same st. (Dc in next 11 st, (2 dc, tr, 2 dc) in tr for corner] four times, omitting last 3 st. Sl st to top of beg ch-4. Fasten off. (64 st)
Round 5: Join Color B with sl st in tr of any corner, ch 4. 2 dc in same st. [(Dc in next 12 st, FPtr around dc below in Rd 3 (the 2nd st of the 5-st corner), FPtr around tr below in Rd 3, sk 2 st in current round, dc in next st, (2 dc, tr, 2 dc) in tr for corner, dc in next st, FPtr around tr below in Rd 3 (same tr as used on previous FPtr), FPtr in next st in Rd 3, sk 2 st in current round, dc in next 12 st, (2 dc, tr, 2 dc) in tr for corner] twice, omitting last 3 st. Sl st to top of beg ch-4. (80 st, 20 per side) 

Round 6: Ch 1, (sc, ch 2, sc) in same st as join, [sc in next 19 st, (sc, ch 2, sc) in next st] four times, omitting last 4 st, sl st to first sc, fasten off. (84 sc, 4 ch-2 sp, 21 per side with ch-2 at corner)
Copyright 2023 Julie Yeager Designs. See all at www.julieyeagerdesigns.com, or my Ravelry store. Contact me via e-mail at julieyeagerdesigns at gmail.com