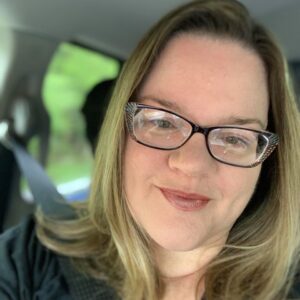 I'm Julie Cassidy Yeager and I have been crocheting and knitting since age 8, taught by my Irish mom in the Bronx, NY.   I'm currently obsessed with crocheted afghan squares and blanket designs – always a new idea on the hook.   I like to make my patterns easy to read and fun to stitch.
I started designing after winning a contest on the Crochet Me website in 2010 where they asked for reader submissions for crochet squares for their  Chain Reaction Afghan Project. Three of my submissions were published in Interweave Crochet Magazine.   After that I started publishing my patterns on Ravelry and with my yearly Mystery'Ghans I reach new fans every year.
When I'm not crocheting, I'm saving lives as a Registered Nurse and having fun with my awesome teenage daughter.
Thankful to be living my dream as a crochet designer –  thanks to all my wonderful fans. <3<3
Check back often for more free patterns on this website!  Sign up for updates (scroll down) and you won't miss any of the news.   My paid patterns are all available on Ravelry, and I am working on getting them all up on Etsy and Loveknitting.  If you are enjoying my free patterns, please support my work by clicking through my links for purchases at Wool Warehouse, deramores.com, lionbrand.com and all my links, and I will get a commission.  Bookmark and comment!
email me: julieyeagerdesigns at gmail.com
See all my patterns at my Ravelry store.
Talk with others who are working with my patterns:   Facebook CAL group:  Crochet-A-Long with JulieAnny, Ravelry board.

Ravelry Profile – JulieAnny

twitter:  @JuliAnnyCrochet

etsy shop:  FiberJay
Instagram:  julieanny_crochet
Pinterest:   julieyeagercro