Welcome, Moogly Fans! Thanks to Tamara for featuring me on this month's Designer Showcase on Mooglyblog.com. Mooglyblog.com is such a great resource for all crochet techniques, with so many free patterns, yarn recommendations, video tutorials, and introductions to interesting crochet designers you may have missed! It's my go-to if I just cannot remember how that particular join is formed, or what the heck is foundation single crochet, or is this the time I need to learn Tunisian? And I'm a faithful fan and contributor to her yearly afghan block CAL! I do not do as many squares as I used to, as I am more interested in full afghan designs these days, but I know that I have to produce my yearly Moogly block, so this is always a fun thing! Thanks, Tamara!
If you are new to my blog, please sign up for blog updates on this page. I do not send out too much, plus in 2023 I've been having trouble with my email list, but things are looking up. I've got some exciting plans for the next few months!
Three of my afghan patterns with yarn packs are currently featured on marymaxim.com and in the Mary Maxim mail order catalog. (Scroll down to previous posts.) The big news is that I will have two more patterns featured soon! Keep your eye out for the November catalog, and get ready for a CAL in January to my newest pattern, Bohemian Hexagons. We will have a week by week CAL, with photos and videos to help with the tricky parts. Check out the pattern on Ravelry and Etsy, and if you'd like to get the pattern now, here is a coupon for half off: BOHO50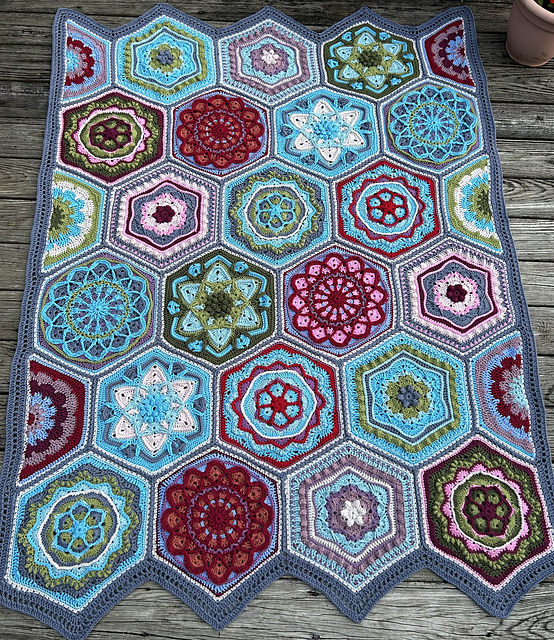 Thanks for your interest in my patterns! Check out my Ravelry chatboard or Facebook CAL group if you need any help with patterns, or just like to chat about crocheting!
If you click on any links in this post or on my blog, I may receive a commission with a sale. Thanks!