Today I'm offering  $2.00 off the price of one of my most popular designs, JulieAnny's Stained Glass Afghan Square, exclusively for readers of this blog.  Click this direct link to  reduce the price from $3.99 to $1.99 (slightly more if VAT applies.)  Offer expires March 1, 2016.  If you need tutorial photos, send me a message.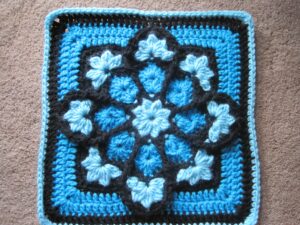 Subscribe to my blog feed to receive email updates when I post here on the blog.  Don't miss exclusive coupons and news of our next projects.  On desktop view, the sign-up is over on the right, scroll down.  On a smartphone, you may have to scroll WAY WAY down to see the side bar links.
I love seeing finished afghans using this block.  Here are lovely versions by crochetqueen98, candygram5000, lisje, and KarenRedBaron.There are over 500 project photos on Ravelry for inspiration.  Thanks to all who support my work by purchasing patterns, posting photos, and recommending Julie Yeager Designs!