There are many options when it comes to joining our afghan blocks.  I am lagging behind but I plan to put the border from "Fantastic" Block on all the blocks and then just slip stitch the blocks together.  I love to slip stitch through the front loops on the front side of the work and almost always use this join, especially when I do not want to distract from the design of the block.
When I first started joining blocks in afghan swaps I would add rounds of dc and sc in pretty color combinations to tie everything together.  Simple but effective, and I think fringe is underrated.  🙂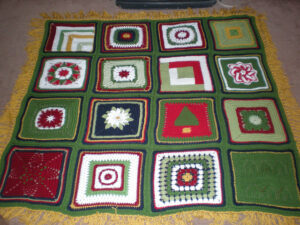 A favorite and classic join is Priscilla Hewitt's "Flat Braid Join."  Be careful at the corners; that part always trips me up!  There are video tutorials out there for this method.
My designer friend Margaret MacInnis has done several tutorials on joining methods.  Her "No Hook Out" method is a favorite, but check out her other tutorials.
Sandra at Crochet Cabana has a great description of a "Join As You Go."  Love this.
So there are many great resources out there for joining your blocks, and each time you finish an afghan you will improve your skills.