I am working on a few new patterns these days.  The first is a crocheted full-size blanket pattern inspired by the motifs in Norwegian knit sweaters.  Sometimes my designs morph away from their inspiration, so let's see what happens.  🙂  I'm planning a Crochet-A-Long for January on my Ravelry board; stay tuned for details.
I'm also working on unique ripple-patterned scarf using self-striping yarn.  I was so happy with the way the self-striping yarn worked in Modern Blanket of Flowers and wanted to do a scarf using ripples rather than motifs.
During breaks at work I've been working on Perfectly Stretchy Watch Cap, a unisex knit hat that is perfectly stretchy.  I've noticed that all the hats this season lean toward the slouchy, hmm?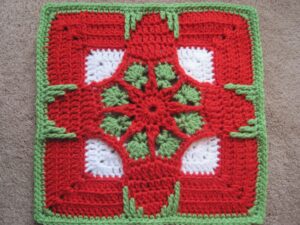 In the meantime, try my Holiday Ornament Afghan Square, a 12″ afghan pattern that utilizes some of my favorite techniques.  It's free, and designed to make you fall in love with my patterns.  It is one of the featured blocks this month on Ravelry's Block of the Month board.  Share your results on my Ravelry board or on my Facebook page.  I'd love to see it in a full afghan, but it would also look great in a Christmas sampler afghan.
Check out all my patterns at my Ravelry store.