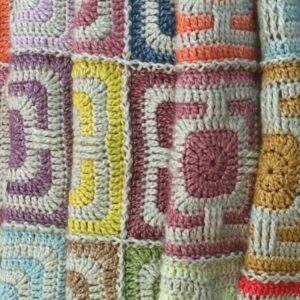 Introducing my new crocheted blanket pattern – "Faded Love " – now available for purchase on Ravelry.com .
Stunning in its simplicity, this versatile granny square blanket can blend in with any decor, from vintage to modern.
The square itself is easily learned, with basic crochet stitches and a few front-post stitches. For a 47" x 56" throw, you will need 20 skeins; for 56" x 83", you will need 36. Once you master the pattern, sit back and enjoy many evenings of relaxing crochet with an impressive result. Suitable for the beginning crocheter.
Use your artist's eye to put together your own color combinations, or follow my lead with the luscious shades of Stonewashed XL, a chunky cotton/acrylic blend.  Update:  Yarn Packs in the Stonewashed XL are available at Deramores.  Use this link (US) or this (UK) or this (Canada)  and I will get a commission. (Use the pulldown menu for other countries.)  Try mentioning my name at checkout for a 20% discount too.  If you purchase the yarn pack through my link I will send you the pattern for free  – send me a private message or email with your order number and Ravelry name.
Directions for a stretchy join are included; this join is excellent when squares vary a little in size. "
I used 36 skeins of Stonewashed XL for this blanket in the following amounts:
18 skeins Crystal Quartz, 2 skeins Corundum Ruby, 2 skeins Amazonite, 1 skein each Red Jasper, Yellow Jasper, Garnet, Deep Amethyst, Lemon Quartz, Green Agate, Smokey Quartz, Boulder Opal, Blue Apatite, Canada Jade, Coral, New Jade, Lilac Quartz, Brown Agate
Or put together your own combination.  If you purchase from Deramores using this link US or UK or click the banner on the right side of my blog I will get a commission on your purchase.  Thanks!  First-time buyers can mention my name at check-out for a 20% discount.
I am planning to start the CAL on September 21, 2015, with pattern support on my Ravelry board, and also in my Facebook CAL group.