How's everyone doing with last week's free pattern, Kylie Bridget Shawl? The pattern is free here on the blog and is a triangle shawl in an easy and relaxing spike stitch repeat.
I finished my Second Version of JulieAnny Granny Blanket; the instructions are updated in the original pattern. This version consists of 12 – 16″ squares in the same pattern to form an approximately 50″ x 66″ blanket. The colors and style make it perfect for that masculine pattern we are always looking for to make a gift for that son, nephew, or dear old dad. It also boasts clean contemporary lines to fit in with today's decor. For this version, I used 4 skeins each of 5 different colors of Knit Picks Brava Bulky. I am loving soothing blues and grays these days. The pattern is still on sale at 40% off with Coupon Code OCT40 until June 2, 2020, and after that at 20% off with JULIE20.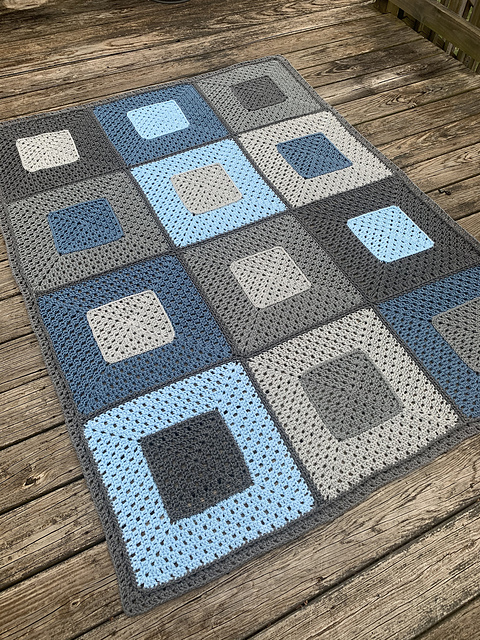 I did a little exercise to showcase some of my patterns in a self-striping yarn like KnitPicks Chroma Worsted in colorway Ponderosa. I love small motifs in the round, but sometimes don't like the color jog at the end of each round that you will see with self-striping yarn. In the bottom left Motif, Filler Hex from my Hexaghan pattern, you can see the jog I'm talking about, but the holey corners help a little. In my Spiral Hexaround Motif , upper right, the piece is worked in a continuous spiral to eliminate the jog. In Modern Blanket of Flowers in the upper left, the overlay stitches in a contrasting color disguise any imperfections in color progression. If you are interested in any of these patterns, do not forget your 40 % off coupon!