Does anyone make a Valentine's Day afghan?  Well, you do now.  🙂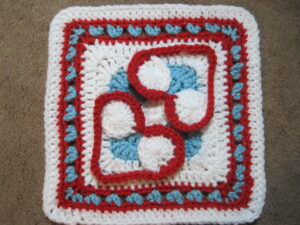 Enjoy a free copy of my Heart to Heart Afghan Block with coupon code FEBRUARY15 on Ravelry.com through February 28, 2015.  I would love to see photos of your finished results!
If you are in the EU and cannot use the code on Ravelry, please PM me via Ravelry or at julieyeagerdesigns at gmail.com and I will send you the pattern. (Edited to add:  The codes do work if the pattern is brought down to $0 – free.  Your Ravelry shopping cart/library should work as usual.)
There is a photo tutorial at this link; scroll down.
I like this one by KarenRedBaron: