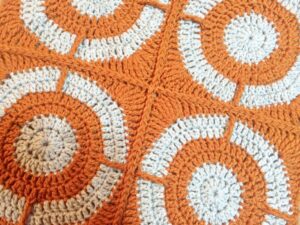 Graphic Circles Throw is ready!  Easy beginner pattern with striking results. Simple bullseye circles with a twist – one single post stitch makes all the difference. A careful and minimalist join brings out the corner design, making for a modern and eye-catching throw.
Two colors keep it simple, but make it your own with color changes.
I used 6 skeins of Vanna's Choice in Terracotta (170 yards per skein) and 5 skeins of Vanna's Choice in Silver Heather (145 yards per skein) with an I hook but I am a loose crocheter. I recommend a J hook to achieve my gauge and size – the throw is about 52" x 68" with 48 motifs.
Join us for discussion, questions, pattern support, and brag photos on the Julie Yeager Designs board  on Ravelry – all are welcome; I love to see what you come up with. Make a project page to inspire others!
I would love to inspire beginning crocheters to complete their first afghan with this pattern.  I am offering the pattern free with coupon code CIRCLES for the next three months.  Offer expires April 30, 2015.  If you like the pattern, spread the word!  Please link back to this blog and do not share the coupon code.  Share the link to my blog.  Thanks!
Thanks for your interest in my patterns; please see all my designs at my Ravelry Store.
Comment on the blog – I'd love to see something to approve other than spam, lol.
The border on the left is not included with the pattern, haven't written it up yet.