Gwendolyn by Polly Plum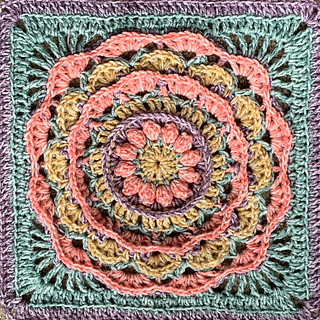 Welcome to Week 42 of our 2019 Block of the Week Crochet Along.  Don't forget to join in chatting and sharing photos on my Ravelry board and my Facebook Crochet-A-Long group.  Feel free to jump in any time. Please use hashtags #BAWJ2019 and #crochetalongwithJulieanny.
This week I'm excited to present Gwendolyn by Polly Plum. If you love afghan blocks then you are very familiar with the innovation and expertise of Polly's creations. Gwendolyn is no exception; it is well-written and fun to stitch. See all Polly's work at her Ravelry Store and find her on her blog, Every Trick on the Hook. Have you seen her latest Arabella blanket? Please support our participating designers with your purchases. (And is that her real name? Hmmmm.)
I am loving my new palette in Stylecraft Batik, purchase at Wool Warehouse or Deramores through my links!
Have you purchased your CAL bag yet – only a few left – my custom heavy-duty canvas tote bag. NEW: For the bag alone without included patterns, see this Etsy listing. For a free bag with pattern purchase see here for more information.
If you purchase yarn through any of my links, I will receive a commission. If you need help with color coordination, check out pre-made palettes at Wool Warehouse and Deramores. Look for good prices at Michaels, Joann, Lion Brand, Hobby Lobby, Red Heart, Annies, and Consumer Crafts.