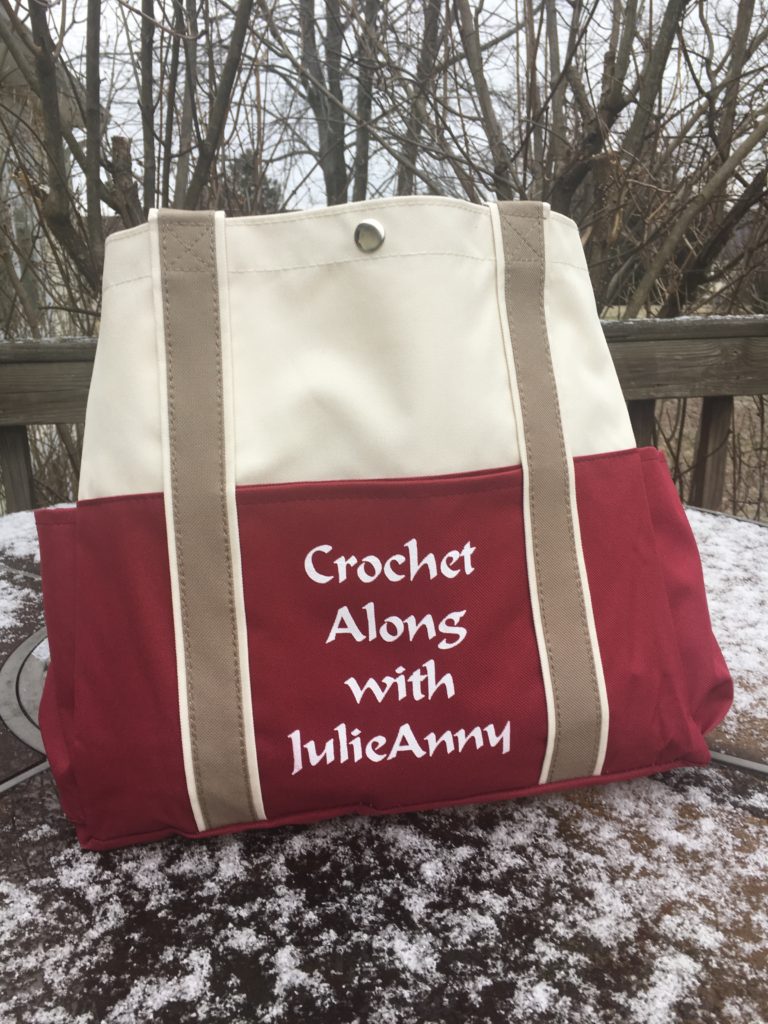 I'm getting excited about our upcoming Block of the Week Crochet Along 2019 to begin on January 7, 2019.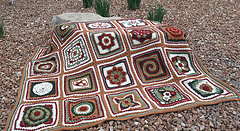 EDIT 2/26/19: TOTE BAG now available without patterns – Tote Bag alone in this Etsy Listing. EDIT 1/7/19: TOTE BAG now available with any $25.00 purchase from my Ravelry Store or Etsy Store. Free shipping in U.S. ; International shipping at cost. The International Shipping can be calculated in the Etsy shop listing. PM me.
I've put together a package for Eighteen 12″ afghan square patterns by Julie Yeager with a free tote bag.
Purchase 18 afghan square patterns and receive this attractive and functional custom tote bag for the yarn and supplies you will need for the Block of the Week with JulieAnny 2019 as a free bonus. Large capacity tote with snap fastener – keep your yarn inside and use three outside pockets for your hooks, pattern, scissors, and notions.
Bag as shown in a pretty burgundy/beige two-tone with tan handles. Tote measures about 13″ x 12.5″ x 4″ and handle length is 24″. will Fits five giant 7 oz skeins (1000 grams) or over 30 small skeins (1500 grams.)
Come Crochet Along with us on my Ravelry board and Facebook Group (Crochet-A-Long with JulieAnny) starting January 7, 2019 as we work on a different free afghan square pattern for each week of 2019 (about 48 blocks – December is for joining and border.) Patterns will be announced here on the blog. The work of 40 talented designers will be featured, and I will fill in with my own designs, including several new designs.
Purchase these 18 patterns as a digital download on Ravelry for $26.75 and I will mail the tote bag free to your US address. Check out my Etsy listing for International shipping options. Edited to add: Offer of free tote bag applies to any purchase of $25.00 in my Rav or Etsy shop. Don't forget BOGO18 good until January 31, 2019. PM me your address for mailing.
(These patterns were included in a previous CAL and can be mixed and matched with this years' 48 squares. Patterns include In Treble, JulieAnny's Stained Glass Afghan Square, Eight-Pointed Flower, Sun Catcher, Catalina, Clusters, Spiky Circle, Margaret, Spiral Circle to Square, Fantastic, Firenze, Floral Fantasy, Heart to Heart, Holiday Ornament, Loopy, Mum in Treble, Viva la Vida, and Sweet and Fair.)