We are at the last week of our Afghan Square CAL.  Many of you have already completed gorgeous afghans!   This week our free square was planned to be Circle Star, part of the Chain Reaction Afghan Project that I designed for an Interweave crochet contest and which appears in a free online e-book but some of you were having a hard time downloading it so I added another free block, Heart to Heart, which debuts here free on the blog.  Heart to Heart is only a 9″ block but you can add a few rounds to bring it up to size. 🙂
Our featured paid pattern is the ever-popular JulieAnny's Stained Glass Afghan Square, with over 560 project pages on Ravelry.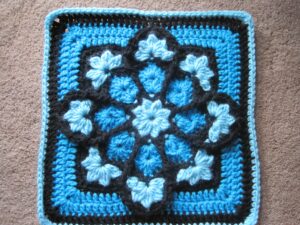 When I had this as a free download one day, it was downloaded 10,000 times! This block has been around for a while and was my first best-seller.  Still fun to do and makes a striking result.  Here is a recent project that Beth Stanton and her sister completed for their aunt: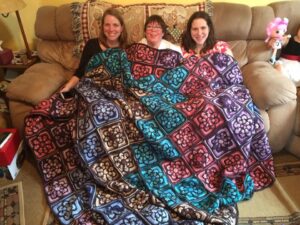 As you finish your squares, you may be looking for ideas on how to join the blocks.  My designer friend Margaret MacInnis has a few great tutorials for joining blocks; here is her No-Hook Out method.
Hope you enjoyed Crocheting Along and stay tuned for our next project!