This week features Spiral Circle to Square, free now for a limited time with coupon code SPIRAL on Ravelry.  (Coupon good until February 29, 2016.) It is an easy four-color spiral, and you may be familiar with the concept, but I thought the way I squared it up added something new.  This is my original and then a lovely version by Marywalkerartist.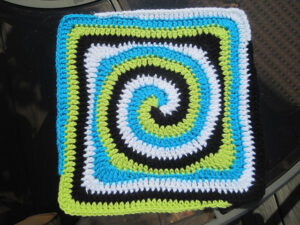 Here is what your pieces should look like after a few rounds, thanks to MadStitcher1 for pic:

The paid pattern this week is Firenze Afghan Square.  Dedri Uys did a tutorial for this block on her blog last year.  Here is my original, a bright version by lieslein, and a blanket version by mariaknits1508.
Please share photos and progress on my Ravelry board and/or our Facebook CAL page.