Week 6 of our 12″ Afghan Block CAL features Margaret , free here on the blog, a 12″ solid block done in the tapestry crochet technique.  I designed this block a while back for a comfortghan for a designer friend, Margaret MacInnis; here is one by SueW28.
Now Margaret is offering one of her new original designs free to the followers of this CAL – here is her block, Mystery Puffed Wheat,  now available free on Ravelry with coupon code Saskwheat.  Thanks, Margaret!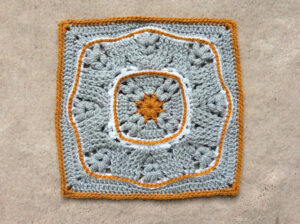 Our paid pattern this week is the very popular In Treble.  Worked almost entirely in treble crochet clusters, this block always makes a statement.  Available on Ravelry for $3.99 or as part of the E-book. Here is the original plus a four-square by Vivilion:
Get all the blocks for the CAL in this E-book, and please share your progress on my Rav group and Facebook CAL group.