Anniversary Mandala by Julie Yeager, Week 2
Glad to see you all enjoying Anniversary Mandala. As we have seen, the pattern looks good whether you cut the striping yarn or not!
This week continues with some interesting and easy rounds. Here is a version I did in Scheepjes Stone Washed XL.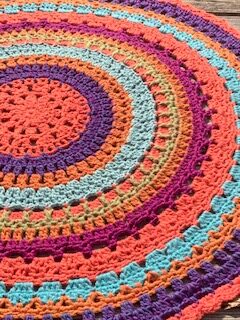 If you need yarn, please consider purchasing through any of the links here on my blog and I will receive a small commission. Check out the 20% off sale at Michaels, purchase Stone Washed XL at Deramores or Wool Warehouse, or see what is new at KnitPicks/LoveCrochet, LoveCrafts, Yarnspirations, or Lion Brand.
If you look to the right on your laptop or scroll down on your phone, I am using a new email program to update you when there is a new blog post. Please subscribe; this will only be used for blog updates, news of new patterns, crochet and yarn news, yarn sales, and crafty things of interest and you can unsubscribe at any time.
You can use the Print Friendly button to print the pattern. I am publishing the full pattern on Ravelry and Etsy as a paid pattern if you would like to have a downloadable PDF.
Come share photos, ask for help, and discuss progress on my Facebook Group – Crochet-A-Long with JulieAnny and on my Ravelry Board – Julie Yeager Designs. Welcome Aboard New Customers – see Coupon Code for discount.
WEEK 2:
Round 15: Join Color A with sc in any ch-2 sp, (ch 3, sc in next ch-2 sp) 47 times, ch 3, sl st to first sc. (48 sc, 48 ch-3 sp)
Round 16: Sl st in ch-3 sp, ch 3 (counts as dc), 2 dc in same sp, (ch 1, 3 dc in next ch-3 sp) 47 times, ch 1, sl st to top of beg ch-3, fasten off. (144 dc, 48 ch-1 sp)
Round 17: Join Color B with sc in 2nd of 3 dc, ch 2, sc in same st, (FPdc around sc in Round 15, (sc, ch 2, sc) in 2nd of 3 dc) 47 times, FPdc around sc in Round 15, sl st to first sc. (48 FPdc, 96 sc, 48 ch-2 sp)
Round 18: Sl st in ch-2 sp, ch 1, sc in same sp, (ch 2, sc in FPdc, ch 2, sc in ch-2 sp) 48 times, omitting last sc, sl st to first sc, fasten off. (96 sc, 96 ch-2 sp)
Round 19: Join Color C with sl st in any ch-2 sp, (BCL2, ch 2) in same sp, [(CL2, ch 2) in next ch-2 sp] 95 times, sl st to BCL2, fasten off. (96 CL2, 96 ch-2 sp)
Round 20: Join Color D with sl st in ch-2 sp, ch 3 (counts as dc), dc in same sp, (2 dc in next ch-2 sp) 95 times, sl st to top of beg ch-3. (192 dc)
Round 21: Sl st in next dc and in sp between dc "pairs." Ch 1, sc in same "sp," [(sc, ch 3, sc) in next "sp" between dc pairs, sc in next "sp" between dc pairs] 48 times, omitting last sc, sl st to first sc. (144 sc, 48 ch-3 sp)
Round 22:  Sl st in next sc and in ch-3 sp, ch 1, sc in same ch-3 sp, (ch 5, sc in next ch-3 sp) 47 times, ch 5, sl st to first sc, fasten off. (48 sc, 48 ch-5 sp)
Round 22:  Sl st in next sc and in ch-3 sp, ch 1, sc in same ch-3 sp, (ch 4, sc in next ch-3 sp) 47 times, ch 4, sl st to first sc, fasten off. (48 sc, 48 ch-4 sp)