Many beautiful finished Summer Mosaic Afghans are showing up on Ravelry and Facebook! So much great work.  Over 10,000 people downloaded the pattern while it was free for over three months!  Over 500 project pages were made on Ravelry, and there are over 4000 members on the private CAL group on FB.  That is a lot of crocheters!  And I thank you all for the support and the faith you have in my patterns.  Now many are crocheting along with Faded Love, and I'm hard at work on several more afghan designs (going to be awesome!)  Please think of going through my links when you order from Deramores , Joann, and amazon.  Thank you!  🙂
Here is my Summer Mosaic, done in the soft and beautiful Scheepjes Stone Washed XL: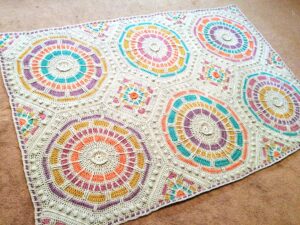 Theresa Pearson got all "overachiever" and did 12 motifs – STUNNING!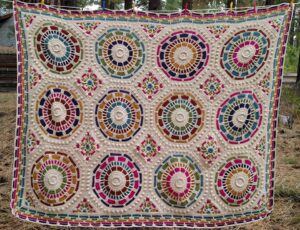 Mary Flannery used the Scheepjes kit from Deramores but totally re-invented the border – AHMAZING!
Dakota Stamper was neat as a pin as usual and puts us all to shame (sometimes I hate her):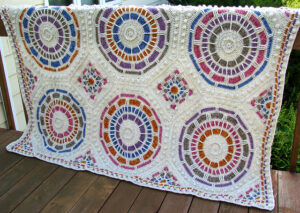 Cynthia Beatty has the "comfy couch" thing going on:
And Pragati and Emma Bjork refuse to listen to direction and aren't we glad of that?  ;p
More next time.