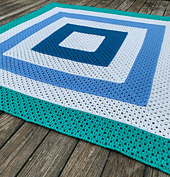 Next CAL – JulieAnny Granny Blanket
A new take on the traditional granny square, with a pattern that does not skew, no matter how big it gets! With over 5 pounds of yarn and a generous size of 72" x 72" , this heavy blanket will soothe you into slumber. Your own crocheted weighted blanket is here!
For my sample, I used 12 skeins of bulky weight Color Made Easy and a K hook, using 5 skeins of Birch (cream), 4 skeins of Malachite (green), 2 skeins of Blue Moon, and one skein of Kingfisher (teal.)
In a traditional giant granny square blanket, the rounds tend to skew after a certain size, and some people turn the piece at the end of each round to prevent the skew. With this pattern, no turning is necessary, and square remains perfect all through up to my finished 72" size. Fun and easy to memorize, use your color imagination and basic crochet stitches to create your own unique masterpiece.
Crochet Along with this pattern and its smaller adaptations on my Ravelry Board and Facebook Crochet-A-Long with JulieAnny Group starting February 28, 2020. Use discount code JULIE20 for 20% off the price of the pattern, good indefinitely.
If you Crocheted Along with MysteryGhan 2020, post a finished afghan photo of your MysteryGhan 2020 on a Ravelry project page and I will send you this pattern for free, PM me.
Sign up for updates on my blog to receive news of new patterns and CALs. Purchase yarn through my links on the blog and I will receive a commission, thanks! Deramores, Wool Warehouse, Lion Brand Yarn, Yarnspirations, and KnitPicks/We Crochet.