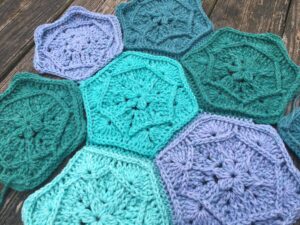 Hexaflower Motif and Half-Motif
I love to crochet with Caron Cakes; the wool/acrylic blend is enjoyable to work with and the colors are fabulous. Each skein features five bright colors and I designed this motif to use precisely the amount of yarn in one color change; you will get seven motifs from each skein. Eight skeins will give you a nice size throw of about 45" x 58" but size is up to you.
The pattern can also be used for a three-color motif. Pattern for a half-motif is included, border pattern is not included. A few post stitches and clusters but mostly basic crochet stitches.
Purchase this pattern and take advantage of my Buy One, Get One Free in my Ravelry Store until May 11, 2018. Place two patterns in your shopping cart and the lower priced pattern will be free.
Pattern support on my Ravelry Board and Facebook Crochet-A-Long Page. Purchase yarn here: Michael's.