BAWJ2019 final Block for Week 48 will be released next Monday, 12/9/19.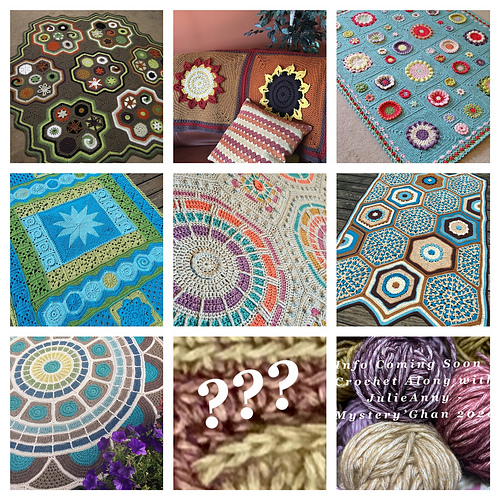 Come Crochet Along with JulieAnny in January 2020 as I present our 2020 MysteryGhan. This will be my eighth Mystery Afghan since 2011 and I always appreciate your enthusiasm and participation as we crochet along. As you may know, my mystery afghans consist of about eight weeks of clues given without the help of photos as we crochet along to create unique afghans. We will chat on my Facebook Group, "Crochet Along with JulieAnny", and my Ravelry board. As we finish each week's clue, we welcome progress photos in a Spoiler thread on Ravelry, and in a reply to a Spoiler message on Facebook. Will explain more as we go along, or check thread for last MysteryGhan – Midday Mandala. Photos are helpful to those who need a visual, but those who love the mystery aspect do not appreciate photos spoiling their fun.
The pattern will be free with Coupon Code on Ravelry, and each week the pattern will be updated with that week's clue, so you will receive notice of the Ravelry update. The Coupon Code will be revealed on this blog. Not sure of dates yet but stay tuned.
The afghan will consist of multiple motifs with an easy join. You will need about 3200 yards of yarn to complete the afghan. The finished size is about 66 inches long. You can use stash yarn and any type/weight yarn of your choosing, but I will give suggestions and list yarn packs in my Deramores shop. If you plan to purchase yarn online, please go through my links here on the blog to  Deramores, Wool Warehouse, Lion Brand Yarn, or Yarnspirations, and I will receive a few cents commission. Once you get on the website through my link, you can buy anything and I will get credit.
I used seven colors in my Patina colored sample, but you can use from 3 – infinite number of colors. You will need about 3200 yards total (I used about 3024 but to account for tension I add a little.) I would suggest choosing a palette of 5 – 9 colors that you love together. In my "Patina" palette the colors did not have much contrast. The main body of the afghan is like our sampler afghans in that you can change colors every round and choose colors from your palette randomly. You will each make a unique work with your own color selections. The body needs about 2350 yards of assorted colors. The border needs about 900 yards, including 240 yards for join; 325 yards of a dark color; 220 yards of a third color; and 120 yards of a fourth color. The body can consist of all 9 colors and then 4 of those colors can be used for the border/join. The dark color acts like a " frame."
Palette suggestions – I will offer these in my Deramores Shop soon.
Patina Colorway:

Scheepjes Stone Washed XL (50 g – 75 m/82 yd) – 40 skeins
8 skeins Lepidolite; 7 skeins Brown Agate; 6 skeins each of Yellow Jasper and Garnet; 5 skeins each of Enstatite and Boulder Opal; 3 skeins Deep Amethyst
Scheepjes Stone Washed (50 g – 130 m/142 yd) – 23 skeins
4 skeins each of Lepidolite, Garnet, Brown Agate, and Boulder Opal; 3 skeins Enstatite; 2 skeins each of Yellow Jasper and Deep Amethyst
Stylecraft Special Dk (100g – 295 m/322 yd) -11 skeins
2 skeins each of Plum, Walnut, Mocha and Emperor; 1 skein each of Grape, Camel, and Gold

Stylecraft Special Aran (100 g – 196m) -16 skeins
3 skeins each of Plum, Camel, Mocha and Gold; 2 skeins Emperor;
1 skein each of Pale Rose and Dark Brown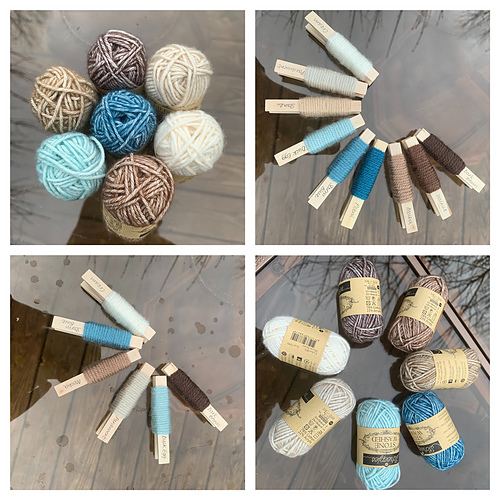 Beachy Colorway
Scheepjes Stone Washed XL (50 g – 75 m/82 yd) – 40 skeins
8 skeins Obsidian; 7 skeins Brown Agate; 6 skeins each of Moonstone and Amazonite; 5 skeins each of Blue Apatite and Boulder Opal; 3 skeins Axinite
Scheepjes Stone Washed (50 g – 130 m/142 yd) – 23 skeins
4 skeins each of Obsidian, Moonstone, Brown Agate, and Amazonite; 3 skeins Blue Apatite; 2 skeins each of Axinite and Boulder Opal
Stylecraft Special Dk (100g – 295 m/322 yd) -11 skeins
2 skeins each of Dark Brown and Stone; 1 skein each of Cream, Storm Blue, Duck Egg, Parchment, Mocha, Walnut, and Denim

Stylecraft Special Aran (100 g – 196m) -16 skeins
3 skeins each of Duck Egg, Parchment, Mocha, and Dark Brown; 2 skeins each of Cream and Storm Blue