Hop on the trip down "Memories" lane as we Crochet Along in January/February 2017. Pattern is free on Ravelry with Coupon Code MEM2017 for the next 7 days – good until end of day 1/8/17.
Crochet along – share photos and progress – on my Ravelry board and on my Facebook CAL group, "Crochet Along with JulieAnny."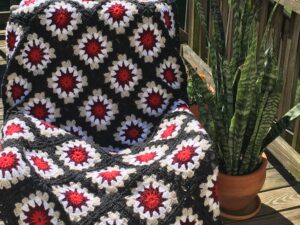 Pattern as shown measures 51" x 63" or 130 cm x 160 cm and requires:
Yarn: Vanna's Choice (Yarn Weight 4; 156 m per 100 g skein)
Red, 1 skein
Burgundy, 1 skein
White, 2 skeins
Linen, 3 skeins
Charcoal Grey, 5 skeins
Hook size I (5.5 mm)
but you can choose your own size/scheme. This is a denser circle to square granny (less holey) and will remind you of why the classics do not go out of style – memorize the pattern in 5 minutes and "Relax and Crochet."
Who is in? What colors/yarn are you planning? Please post progress photos and make a project page on Ravelry.
Use hashtags #memoriescrochet #memoriesafghan