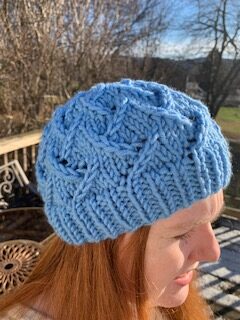 2020 has been a rough year, but I think we can see some hope in the distance as the vaccine is distributed. As a frontline healthcare worker, I received mine last week, and while I did feel my immune response kick in with a mild headache and fatigue for a day or two, I am so happy to be part of the beginning of the end of this pandemic.
I wish you and your families a Merry Christmas, Happy Kwanzaa, Happy Hannukah, and Happy New Year to all who celebrate. I love to knit a quick hat for gifts this time of year, and I wrote out this pattern for a quick beanie that has proven to be very popular – get your free copy of Amanda Beanie on Ravelry with Coupon Code Amanda, and if you post a photo of your finished hat on a Ravelry Project Page I will send you any free pattern from my Rav Store – offer good until March 31, 2021. On Etsy, I'm unable to offer it for free but it is included in the 50% off sale.
And don't forget the END OF YEAR SALE in my Ravelry Store and Etsy Shop now through January 15, 2021 – use Coupon Code BOGO20 in either shop. Put two patterns or e-books in cart, enter Coupon Code BOGO20 and on Ravelry the lesser-priced pattern is free. On Etsy there will be 50% off the entire cart. May use more than once. Thanks for your support in 2020 and hoping for good health and happiness to you all in 2021.
Etsy: https://www.etsy.com/shop/FiberJay?coupon=BOGO20
Ravelry: https://www.ravelry.com/designers/julie-yeager