I'm happy to see you all Crocheting Along!   As always, if you need help, please contact me via comments here,  or email,  but if I am not around at the moment, I encourage you to interact with fellow CALers on my Ravelry Board or my Facebook CAL group.  We also love to see photos of work in progress!  Another suggestion for help would be the wonderful tutorial photos and VIDEO put together by Iris van Meer on her blog.  The video is in Dutch only but for those who need a visual it may be helpful no matter your language.  Thanks, Iris!  And just a reminder that Yarn Packs in the Suggested Scheepjes Stone Washed XL are still available at Deramores.
I hope by now it is clear that each motif is repeated 4 times in different colorways.  When I say use Color A (B, C, D) it means your first motif in A, second in B, etc.  These guidelines are used to conform with the amounts of yarn in the kit.  If you are using your own stash yarn and are less concerned with amounts, use any colors.  Use MC when called for.     When I made my sample, I unfortunately did not think about yarn amounts so my photos do not match assigned colors, but do as I say, not as I did.   🙂
For week 2 we have one 8″ motif, Loopy,   and one 4″ motif, Small Daisy.  The patterns are posted here and can be printed with the Print Friendly button.  You can also download the pattern for free to store in your Ravelry library with coupon code #JULIEYEAGERGARDEN (expires June 30, 2016) at the Ravelry pattern page.  Please make a Ravelry project page and share your photos there.  The schedule for the remaining installments is as follows:
Week 3, 4/15 – 4" Star and 8" Amazing
Week 4, 4/22 – 12" Happy Flower
Week 5, 4/29 – 4" Simple Loops and 8" Pretty Posy
Week 6, 5/6 – 4" Turn Around and 8" Nubby
Week 7, 5/13 – 4" Easy Sun, 4" Mini Mum, 4" Mini Daisy, 4" Circle Flower
Week 8, 5/20 – catch up week
Week 9, 5/27 – Border
Loopy 8″ Square
by Julie Yeager Designs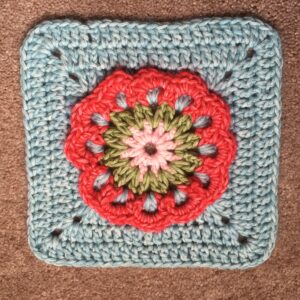 Make 4 in 4 colorways
Abbreviations and Special Stitches
Yo – yarn over           tr – treble crochet           ch – chain            dc – double crochet        sl – slip          st – stitch          sc – single crochet                PM – place marker          flo – front loop only        blo – back loop only         sp – space                hdc – half double crochet            sk – skip
V-Stitch: (dc, ch 1, dc) in same st.
Round 1: With D (E, A, B), ch 6, join with sl st to form ring.  Ch 3, 11 dc in ring, sl st to top of beg ch-3.  Fasten off.  (12 dc)  (I made the center hole large for better fit later so if you are using magic circle leave it open as pictured.)
Round 2: Join B (C, D, E) with sl st in space between any two dc.  Ch 4 (counts as dc and ch-1), dc in same sp as join.  (V-stitch in sp between next 2 st) x 11.  Sl st to 3rd ch of beg ch-4.  Fasten off.  (12 V-stitches)
Round 3: Join A (B, C, D) with sc in any ch-1 sp.  Ch 5, sc in same sp.  [(Sc, ch 5, sc) in next ch-1 sp] x 11.  Sl st to beg sc.  (24 sc, 12 ch-5 sp)
Round 4:  (5 sc in ch-5 sp) x 12.  Sl st to beg sc.  Fasten off.  (60 sc)
Round 5:  Working behind Rounds 3 and 4, join MC with sl st in ch-1 sp in Round 2.  Ch 2, hdc in same sp.  (ch 2, 2 hdc in next ch-1 sp of Round 2) x 11, ch 2.  Sl st to top of beg ch-2.  (48 st)
Round 6:  Sl st in next st and in ch-2 sp.  Ch 3, 3 dc in same sp.  (4 dc in next ch-2 sp) x 11.  Sl st to top of beg ch-3.  (48 st)
Round 7:   (Ch 3, dc, ch 1, 2 dc) in same st.  [Dc in next st, hdc in next 2 st, sc in next 5 st, hdc in next 2 st, dc in next st, (2 dc, ch 1, 2 dc) in next st for corner] x 4, omitting last corner.  Sl st to top of beg ch-3.  (64 st, 16 st per side including ch)
Round 8:  Sl st in next st and in ch-1 sp.  (Ch 3, dc, ch 1, 2 dc) in ch-1 sp.  Dc in each st around, with (2 dc, ch 1, 2 dc) for corners.  Sl st to top of beg ch-3. (80 st, 20 per side including ch)
Round 9:  Sl st in next st and in ch-1 sp.  (Ch 3, dc, ch 1, 2 dc) in ch-1 sp.  Dc in each st around, with (2 dc, ch 1, 2 dc) for corners.  Sl st to top of beg ch-3. Fasten off. (96 st, 24 st per side including ch)
Copyright 2013, 2016 Julie Yeager Designs
Please do not post this pattern on the internet, even if it was obtained as a "free pattern."  Post the link to my website – https://julieyeagerdesigns.com, or my Ravelry store – where you can see all my patterns – http://www.ravelry.com/stores/Julie-yeager-designs.  Contact me via e-mail at
Small Daisy 4″ Square
 by Julie Yeager Designs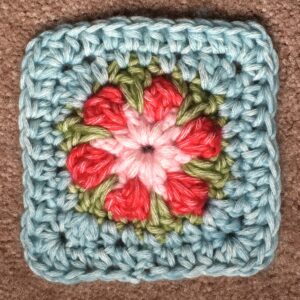 Make 4 in 4 Colorways
Special Stitches
BCL3 (Beginning Cluster of 3): Ch 2, (dc in same st until last step leaving one loop on hook) twice, yo and pull through all three loops on hook
CL3 (Cluster of 3): (Dc in same st until last step leaving one loop on hook) x 3, yo and pull through all four loops on hook
Spkdc – Spike DC – (Also called Long Double Crochet) – Double crochet worked into designated row below and brought to the height of current row
Round 1:  With A(B, C, D), ch 4, sl st to first st to form ring.  Ch 3, 11 dc in ring, sl st to  3rd ch of beg ch-3. Fasten off. (12 dc)
Round 2:  All clusters are worked in the space between stitches in this round.  Join B (C, D, E) with sl st between any 2 dc, BCL3, ch 2.  [Sk one sp, (CL3, ch 2) in next sp] x 5.  Sl st to top of BCL3.  Fasten off.   Motif will cup a little.  (6 CL3, 6 ch-2 sp)
Round 3:  Join C (D, E, A) with sc in any ch-2 sp.  2 Spkdc in the sp betw 2 dc in Round 1 below (while enclosing the Round 2 ch-2 sp.)  Sc in same ch-2 sp as beg st.  [(Sc, 2 spkdc in Round 1, sc) in next ch 2 sp] x 5.  Sl st to beg sc.  Fasten off.  (24 st)
Round 4:  Join MC in any st with sc.  Sc in next st, (Hdc in next st, (dc, ch 1, dc) in next st for corner, hdc in next st, sc in next 3 st) x 4, omitting last 2 sc.  Sl st to beg st.  (32 st, 8 st per side including ch)
Round 5:  Ch 2, hdc in each st around, with (2 hdc, ch 1, 2 hdc) in ch-1 sp for corner.  Fasten off. (48 st, 12 st per side including ch)
Copyright 2013, 2016 Julie Yeager Designs
Please do not post this pattern on the internet, even if it was obtained as a "free pattern."  Post the link to my website – https://julieyeagerdesigns.com, or my Ravelry store – where you can see all my patterns – http://www.ravelry.com/stores/Julie-yeager-designs.  Contact me via e-mail at