How is everyone doing with our current CAL, Memories?  Here are a few pretty finished versions, by Isabella106 and DakotaStamper.  I love how everyone puts their special touch on the patterns.
Here are a couple of standouts from our last CAL, Spiral Hexaround, by marjos and crankyangel:
Here's a version I did in Stone Washed XL with a single crochet edging: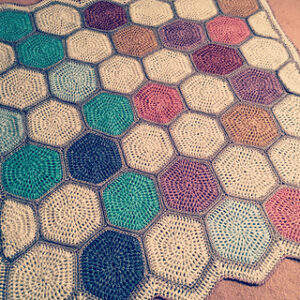 I'm very excited about the next CAL – March-May, it is an original design and I'm trying to get yarn packs arranged.  The pattern will be a paid pattern with a pre-CAL discount.  Coming soon!
June-July – Free CAL to one of my old patterns.  Maybe we'll do a vote!  Hexaghan or September Morning?
August-October – MYSTERYGHAN 2017 – Free up until the start of the CAL, like we did last year.
I also have a few more afghan patterns in the works – not sure of timeline!
🙂