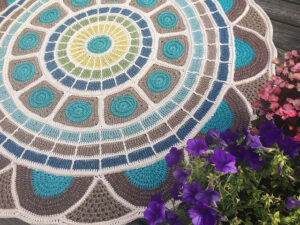 If you are cyber-shopping on Black Friday rather than battling the crowds (crazy day-after-Thanksgiving tradition in the U.S. when we get a start on our holiday shopping), check out the patterns and e-books in my Ravelry shop, where everything is 60% off from 6 PM Eastern Time Thursday 11/23/17 to 6 AM Eastern Time Saturday 11/25/17. So that should cover Friday for everyone!
Current CAL: Brilliantine. Future CAL: Roses and Ivy. New Charts being added and will update: Roses and Ivy, Summer Mosaic. New patterns you may have missed: Midday Mandala, Paloma Blanket, Moroccan Lattice.
Thanks to all! No Coupon Needed!
https://www.ravelry.com/designers/julie-yeager