This concludes the instructions for the Anniversary Mandala Blanket. Please post photos on Ravelry and Facebook – I'd love to see what you come up with!
If you need yarn, please consider purchasing through any of the links here on my blog and I will receive a small commission. Check out the sales at Michaels, purchase Stone Washed XL at Deramores or Wool Warehouse, or see what is new at KnitPicks/LoveCrochet, LoveCrafts, Yarnspirations, or Lion Brand.
If you look to the right on your laptop or scroll down on your phone, I am using a new email program to update you when there is a new blog post. Please subscribe; this will only be used for blog updates, news of new patterns, crochet and yarn news, yarn sales, and crafty things of interest and you can unsubscribe at any time. Unfortunately, I lost the email list I had been using before, so you need to sign up again.
You can use the Print Friendly button to print the pattern. I am publishing the full pattern on Ravelry and Etsy as a paid pattern if you would like to have a downloadable PDF.
Come share photos, ask for help, and discuss progress on my Facebook Group – Crochet-A-Long with JulieAnny and on my Ravelry Board – Julie Yeager Designs. Welcome Aboard New Customers – see Coupon Code for discount.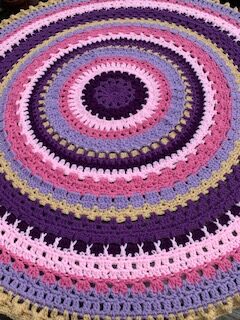 Anniversary Mandala Blanket by Julie Yeager
Week 5
Enlargement for worsted/aran weight will result in approximately 56" (142 cm) circle diameter. This version has not been tested in the Super Bulky Weight so I am not sure how much yarn it will require.
Special Stitch
PC: 5-dc Popcorn st – 5 dc in designated st or sp, remove hook, insert hook from front to back in first dc, grab working yarn and pull through, ch 1 to tighten (ch does not count as a st)
Round 37: Working around Round 36, join Color A with sc in any ch-1 sp after a dc in Round 35, (ch 4, sc in next ch-1 sp after a dc in Round 35) 79 times, ch 4, sl st to first sc. (80 sc, 80 ch-4 sp)
Round 38: Sl st in ch-4 sp, ch 3 (counts as dc), 3 dc in same sp, (ch 1, 4 dc in next ch-4 sp) 79 times, ch 1, sl st to top of beg ch-3, fasten off. (320 dc, 80 ch-1 sp)
Round 39: Join Color B with sc in 2nd of 4 dc, ch 2, sc in next st, (sk dc and ch sp, FPdc around sc in Round 37, sk dc, sc in 2nd dc of 4, ch 2, sc in next st) 79 times, sk dc and ch sp, FPdc around sc in Round 37, sl st to first sc. (80 FPdc, 160 sc, 80 ch-2 sp)
Round 40: Sl st in ch-2 sp, ch 1,(sc, ch 1, sc) in same sp,[ch 1, sc in FPdc, ch 1, (sc, ch 1, sc) in ch-2 sp] 79 times, ch 1, sc in FPdc, ch 1, sl st to first sc, fasten off. (240 sc, 240 ch-1 sp)
Round 41: (All stitches in this round are only worked in the ch-1 spaces.) Join Color C with sl st in any ch-1 sp before a single sc, (BCL2, ch 2) in same sp,(CL2, ch 2) in next ch-1 sp, {sk next ch-1 sp, [(CL2, ch 2) in next ch-1 sp] twice} 79 times, sl st to BCL2. (160 CL2, 160 ch-2 sp)
Round 42: (All st in this round are only worked in the ch-2 sp) Sl st in ch-2 sp, ch 3 (counts as dc), (3 dc in next ch-2 sp, 2 dc in next ch-2 sp, 3 dc in next ch-2 sp, dc in next ch-2 sp) 39 times, 3 dc in next ch-2 sp, 2 dc in next ch-2 sp, 3 dc in next ch-2 sp, sl st to top of beg ch-3, fasten off. (360 dc)
Round 43: Join Color D with sc in any single dc, (ch 3, sc) in same st, [sk 1 st, sc in next st, sk 1 st, (sc, ch 3, sc) in next st] 89 times, sk 1 st, sc in next st, sk 1 st, sl st to first sc. (270 sc, 90 ch-3 sp)
Round 44: Sl st in ch-3 sp, ch 3, (dc, ch 1, 2 dc) in same sp, [sk 3 sc, (2 dc, ch 1, 2 dc) in ch-3 sp] 89 times, sk 3 st, sl st to top of beg ch-3, fasten off. (360 dc, 90 ch-1 sp) 44"
Round 45: Join Color A with dc in any "sp" between 4-dc groups, (ch 2, dc, ch 1) in same "sp", [(V-st, ch 1) in next "sp"] 89 times, sl st to top of first dc. (90 V-st, 90 ch-1 sp)
Round 46: Sl st in ch-2 sp, ch 1, 3 sc in same sp, [dc in ch-1 sp in Round 44 (working around and enclosing the st of Rd 45), 3 sc in ch-2 sp] 89 times, dc in ch-1 sp in Rd 44, sl st to first sc, fasten off. (270 sc, 90 dc)
Round 47: Join Color E with sl st in first sc of any 3 sc, ch 2, dc in same st, (ch 1, sk 1 st, CL2 in next st) 179 times, ch 1, sl st to top of beg ch-2. (180 CL2, 180 ch-1 sp)
Round 48: Sl st in ch-1 sp, ch 1, (sc in ch-1 sp, ch 2, sk CL2) 180 times, sl st to first sc, fasten off. (180 sc, 180 ch-2 sp)
Round 49: Join Color C with standing dc in any ch-2 sp, dc in same sp, (ch 1, 2 dc in next ch-2 sp) 179 times, ch 1, sl st to first dc. (360 dc, 180 ch-1 sp)
Round 50: Sl st in next dc and in ch-1 sp, ch 1, 3 sc in ch-1 sp, (PC in next ch-1 sp, 3 sc in next ch-1 sp) 89 times, PC in next ch-1 sp, sl st to first sc. (90 PC, 270 sc)
Round 51: Sl st in next st, [ch 4, sk 3 st, sl st in next st (the 2nd of 3 sc)] 89 times, ch 4, sk 3 st, sl st to first sl st. (90 sl st, 90 ch-4 sp)
Round 52: Sl st in ch-4 sp, [5 sc in ch-4 sp] 90 times, sl st to first sc, fasten off. (450 sc)
Copyright 2020 Julie Yeager Designs
See all patterns at my Ravelry store, and on Etsy and LoveCrafts. Contact me via e-mail at julieyeagerdesigns at gmail.com