The suggested yarn packs are not in stock at Deramores,  UPDATE 10/5:  Will be back in stock any day.  If you would like to purchase from an alternate source, please use any of the links on my blog such as  Wool Warehouse .
For pretty suggestions readily available in U.S. craft stores, or use my links to
Joann.com     Michaels.com   Walmart.com   Fabric.com   Annies.com  Amazon.com  Target.com  Wool Warehouse
I put together these ideas for Vanna's Choice and Red Heart Super Saver.
Alternate Yarn Suggestions for Aran Weight yarn, Hook :  U.S. Size I-9 (5.5 mm)
Vanna's Choice  Aran/Worsted Weight yarn, 100% acrylic, 170 yards per 100 g  (25 skeins total)
(I did not put the Radiant Lime and Fern in the photo.  You can combine B/F and C/E for a six color option.)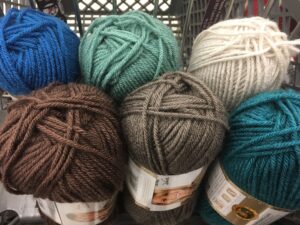 MC: 9 skeins Linen               A: 3 skeins Peacock             B: 1 skein Radiant Lime   C: 1 skein Fern  D: 3 skeins Sapphire            E: 4 skeins Taupe                 F:  1 skein Sage     G: 3 skeins Chocolate
___________________________________________________________________________
Red Heart Super Saver, Aran/Worsted Weight yarn (13 skeins total)
I combined B and F, and C and E, for a six color version.  You can add more if you'd like. There are 2 skeins of Aran color in here, confusing even myself.  I really like this one.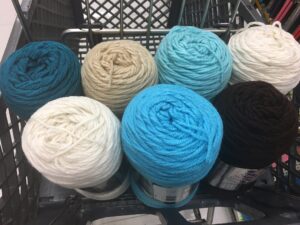 MC:  4 skeins Aran                               A: 2 skeins Turqua                               B/F: 1 skein Aruba Sea
C/E: 2 skeins Buff                                 D: 2 skeins Real Teal                            G: 2 skeins Coffee
If anyone would like more suggestions or placement ideas for the yarn you have, ask me!